I was contacted yesterday by a lady I used to work with about a female pitty her son is trying to rehome. He doesn't want to take her to Lollypop but he can't keep her. I guess someone else had adopted her and couldn't keep her, so he stepped up and now he can't keep her
I told her to send me information and a pic and I'd crosspost her and see what else I can do. This is the email I just received:
My name is Missy and I need to find a new home. My Dad is unable to
keep me because we live in an apartment and of course "No dogs allowed" is the
rule there. I am almost 2 years old. I get along good with people, kids
and other pets. I am not spayed. I just came out of heat and I'd make a
good mom someday. I have a good temperament, not food agressive, good
family pet and loyal. I need a yard to run, liked to be walked and played with.
I am healthy and hope that someone can give me a home. Thank you

Jen... my son Jason would love to keep her but he can't and he'd like
to find someone that will love her and be good to her. She is a sweet and
pretty girl. Let me know what else you need from us and I appreciate
any leads you can provide.
She is very pretty.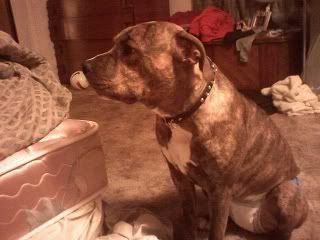 Ack! If I had any room at all I'd take her just so I can ensure she is spayed!!! I am seriously thinking about offering to at least take her to get spayed. Shyt.