Well I have acquired a new foster! It was totally last minute but I have a special place in my heart, some would say a soft spot, for momma dogs. Mama was found crawling up onto a woman's porch in early December, pregnant and with a very heavy chain around her neck. Well she gave birth to her son and he was quickly adopted as soon as he was weaned. Mama was left behind, per usual
Her euth date was Wednesday, so I stepped in. She has some trust issues I am working on with her. She doesn't like men BUT
will
warm up to them, it just takes a little time. It's a pretty good indicator she wasn't treated well by someone of the male persuasion.
So anyway, she is a great little dog! And I do mean little, she is about 30 pounds. She is a pit mix but no clue what she might be mixed with. She gets along with other dogs but is cautious so a slower introduction is necessary. After about an hour, she was totally at ease with my pups. She is good around children and cats as well, apparently she was tested at the shelter with cats. She is an under the cover snuggler too
I learned this last night as Mama spent what I can only assume is her first night in an actual bed
Well here she is, I took this yesterday. Her coloring is so striking!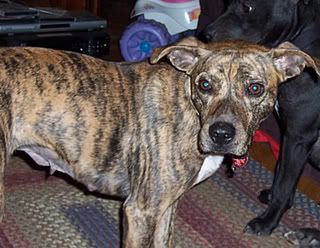 This is a pic taken at the shelter: