The title is mostly joking, except for the case of Evil Porch Kitty (EPK)....
LOLA is probably a pit/boxer mix (aka the Worrywart Spectacled Pit). She was rescued from the Merced shelter and is now up for adoption through Yolo County SPCA. She LOVES people, but had almost no manners and is unsocialized, I'm guessing because she lived in a backyard for her entire life. She is 2-4yrs old and is spayed, HW neg, dewormed, and current on vaccines. She barely tolerates being crated and she has had a few accidents in the 3 weeks I have had her. Lola gets overwhelmed by the world outside the house, but has done very well if she is walked with one of her housemates. She is good with cats and with easygoing male dogs. She would thrive in a household that had a mellow dog to show Lola that the world is not all that awful, but she will need owners dedicated to continuing her socialization and obedience training.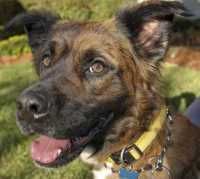 MO was surrendered after his owner could no longer find friends to take them in after a breakup. Mo is a doll! Easygoing, ball obsessed (yet not destructive!), housebroken, good with dogs/cats, and he even knows some obedience. His biggest flaw is that he is a crate escapist, but he has only ever gotten in trouble once in the several times he has busted loose. He's been moved to a wire crate, so we'll see how much luck he has there... Based on his behavior, I am guessing Mo is boxer/golden retriever. He may look like a shepherd, but there's no breed traits in him. Mo is neutered, HW neg, current on vaccines and is also available through YCSPCA.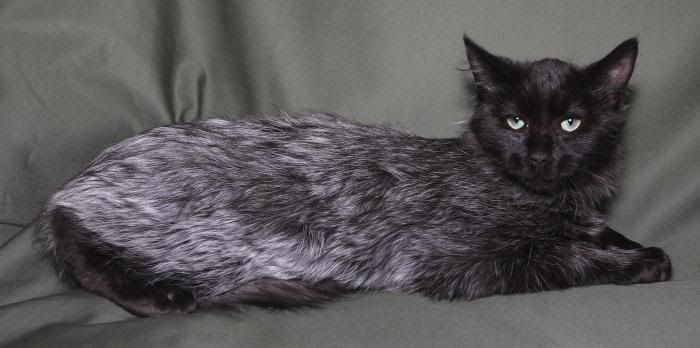 SPARKS was found in South Sacramento 3/4 dead and 1/2 starved. To everyone's amazement, he survived. His missing hair grew in white, but his "fever coat" may be replaced as his coat replaces itself, so he may not keep his amazing coloring. Sparks is very shy, though talkative, and he is a complete lapcat once he is at all comfortable around you. He is great with other cats and has met a dog, but wasn't impressed. Sparks is about 6.5mos old and is neutered, FeLV/FIV neg/neg, current on vaccines, dewormed, and box trained.
HOPPER was ironically named that before he broke his leg in 10/07, giving him a permanent limp. He is the last to be placed of a litter born in a backyard feral colony and fostered from 3-4wks of age. He has been through URIs, ringworm, and now a pinned left foreleg. He cannot bend his left elbow, but it doesn't affect him otherwise. He is a lovebug and another lapcat, good with cats and the dog he has met so far. He is about 9 mos old and is neutered, FeLV/FIV neg/neg, current on vaccines, dewormed, and box trained.
PALOMA (aka EPK) was a pity pull from the Merced shelter, based on this picture:
Alas, she barely tolerates other cats sharing her breathing space
and wishes all dogs would go someplace unmentionable. She is confined to my sun porch because I will strangle her the next time I hear her bitch at one of my cats for daring to live in my house. Paloma is now attacking the sliding glass doors on the porch when the dogs get too close, and she needs to go!
The only good thing is that Paloma only gripes about the other animals and doesn't start fights with the other cats. She would be a great warehouse/shop cat, possibly a barn cat, or just rodent patrol in a place where she is the only pet or where there is a lot of room for her to avoid other cats/dogs. She's a little too curmudgeonly to be a hospital kitty, but she actually does like people and enjoys being petted. Paloma is 4-7yrs old, spayed, FeLV/FIV neg/neg, vaccinated, dewormed and box trained.