Ok..it's just easier to have one thread so here are our adoptable and available dogs. Listed in no particular order we have....
Poquita AKA Pokey. There are only so many good things you can say about a dog before it just sounds like you are making stuff up. But danged if everything we say isn't true of this little doll. This is a dog who is content to be a total couch potato or your active walking/jogging partner. She is good with cats and appropriate with other dogs. She is 100% housebroken, crate trained, knows some basic commands, and could possibly be the worlds perfect dog. Under 40 pounds Pokey is a pit mix of some sort (maybe part cat
) and cute cute cute!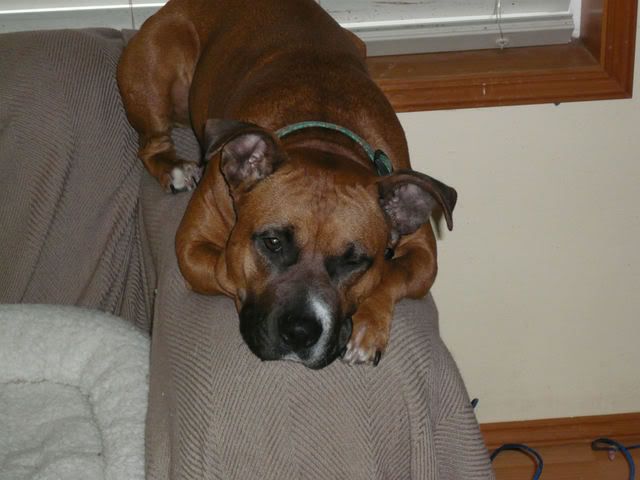 Booker T..well..this big boy is just a love muffin. He is a total package kind of dog. Athletic and high energy but also a true lover by nature. Booker is definitely a no kitties kind of guy. But he is great with tolerant dogs (he is kind of a boob so less tolerant dogs are going to be annoyed by him) Excellent with kids though his size could be an issue with small kids. Not to mention a rather lethal tail. Totally housebroken and learning basic commands.
New arrivals first is Sharri. Sharri is an adorable, approximately 8 month old youngster who came from a shelter in Oregon. She is dog appropriate in a puppy kinda way and great with all humans. Sharri just oozes puppy cuteness. She is housebroken and crate trained. Learning her basic commands and house manners well. She looks like she is mixed with pointer or something of that nature. Only in face shots does she even look like a pit bull. Who can resist this face?
Hattie..sweet sweet Hattie. Hattie is about 7 years old and an incredibly sweet well behaved dog. She has good house manners, is completely housebroken and knows basic commands. Is totally dog appropriate but way too interested in cats and caged critters. Hattie is a true little bully. All heart. She is athletic and active but good for a sofa snuggle as well.
Traffic, who gets his name because that's where he was found..running in traffic. Can you believe no one came forward to reclaim this boy? Traffic is a GOOD dog but he is going to need a committed owner with dog experience. He does have some mild seperation anxiety issues. He COULD possibly be managed in a home with another dog if he has a seriously dog savvy owner. But would probably be best as an only pet. His current foster is working with him on channeling his pent up energy as this is a high drive dog. Interested in a weight pull prospect? this big guy could be perfect!
Cowboy..why is he still here? This is a wonderful dog. A complete goober. Cowboy knows a list of commands as well as the basics.
Cowboy knows sit, down, walks well on a leash (once he settles down ) speak, shake, high five, gimmee ten. He is crate trained and housebroken. He, so far, has ZERO dog aggression. Even when dogs get in his face. He loves cats but will give chase if they run. He is excellent with people including children, though his lethal tail wag could be rough on little ones.
oh..and he loves snow!
This little doll baby is part pit bull part puddle dog. What is a puddle dog, you ask? Well..a puddle dog is a dog that melts the second you touch it into a puddle of love. That's our Mira. Mira was found as a stray on Christmas day and lucky for us, we made room. Mira was SOOOO sweet and SOOOO well behaved, I even kept her here instead of sending her to her awaiting foster home. Mira is crate trained and knows some basic commands. Loves to play fetch and tug. She is dog appropriate and even ok with cats though she will chase if they run. She stops when told, though. Mira is still working on being housebroken but is making great progress. She WILL go in her crate if not taken out often enough. Overall, she is a perfect little dog.
)