Well my foster baby, Lady Louise, went to her new home on Saturday. I could NOT be any happier for this girl who came to me having been roaming the streets of the city, starving, who then went to a HORRIBLY botched spay job, and spent a good deal of her first few weeks with me very sick because of it.
Well within the few months she was with me she gained some weight, and got healthy. The meek little girl I met the day I brought her home turned into a bundle of love with the manners of a street bum and the coordination of an unmanned Mac Truck. Falling all over everything and everyone, running into walls and people, insisting to me that counters and tables were put there for her to be on top of!! She always kept me smiling with her antics.
Well two weeks ago a couple came down to meet her. They fell in love immediately because she is just so sweet and goofy. She got along great with their dog, Krup, and last weekend PittieLove Rescue placed her in their home. She now has many acres to run around on like a maniac, a brother to play with, and a gorgeous house to hang out in.
I can't believe that the little girl who came to me looking like this just a few months ago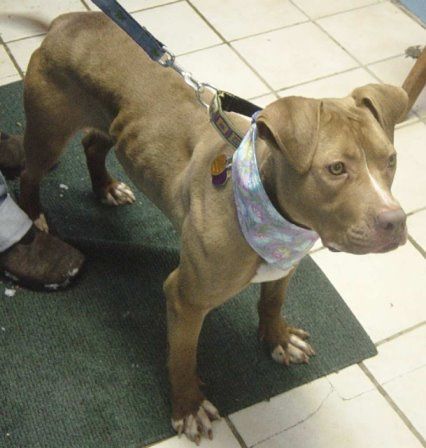 Went to her new home last Saturday looking like this (her with her new brother, Krup)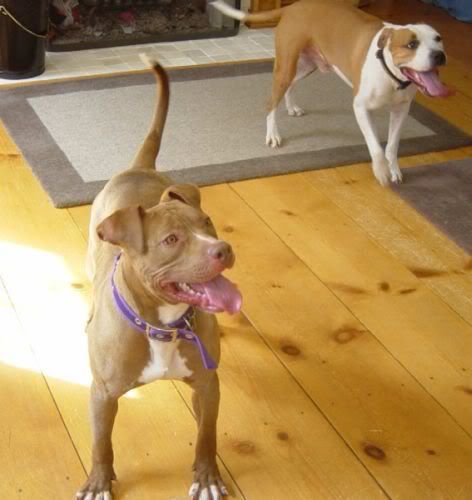 I really couldn't be happier
She is such a sweet girl and they are very into training so I know they'll be able to control my Mac Truck.
A HUGE thank you to Hoyden who donated that lovely purple collar she is wearing in the second picture.