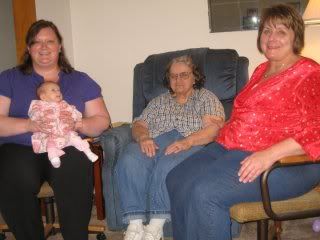 Memories of a love one are precious, to be kept in our mind and heart.
She never said the words out loud "I love you", she didn't have to, she showed it in her deeds. She was a soft spoken person, with sparkly sky blue eyes, and a bright smile she had when she smiled.
She was much older then I 30 years to be exact, she showed me in her deeds how she cared. I remember from the time I was 3 years old until I was a Jr in high school, each summer she'd show up and tell me to pack my bags I was gonna go to the farm for 2 wks, and off we'd go. When I was 9 years old, just before Christmas time she came and picked me up told me we were going shopping, we went to jewelry store and she and I picked out a Mother's ring for our Mother. How special is that? When I was in Jr high she asked me to go along with her on a trip to Virginia to visit her daughter my niece. What a special trip that was. To many things and memories to talk about.
Her and her husband retired, looking forward to their golden years. But for some reason her Golden years where not so Golden.
First she suffered from blindness, then Cancer, Parkinson's disease, dementia, struck her, some times it seems so unfair.
Now she's faded away, the wife, mother, Grandmother, sister, Aunt and friend is no longer with us except for the memory in our minds and heart, now all we can hope for is that God takes her home so she can be at peace.
Now we pray for her beloved husband Owen and her family that they can find comfort.
For my memories of my sister Jane Potter-Wagener and her family.