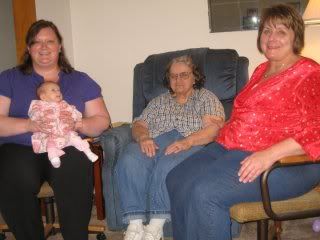 Here is a picture of my sister Jane, her daughter Mary, Granddaughter Megan, and Great-great Granddaughter Keira. Taken April 11th, 2010.
As some of you know my sister Jane has had some medical problems, in 2007 she was dx with uterian cancer at the age of the age of 77-78 went threw chemo, has had detached retines (sp?) for like 25 years now, and is legally blind, and she was also dx last year with Parkinson Disease, and her memory has slowly been going.
She just had her 81st birthday on July 1st, 2010.
She has been at home, my brother in law Owen whom is 85 years old now, has been taking care of her at home, and has been taken the burdon upon himself. My niece Mary has been going every day at lunch time to make sure that they are ok.
I've been calling and talking to her once a month, and you could tell the slow progress of her memory going down, I called her on her birthday, she didn't know who I was, and asked me why the baby was crying.
Today Mary called me and told me they made the decision to put her in the nursing home, Owen had went yesterday to do the recycoling and came home, and she was heading out of the garage with her walker, they took her to the Dr today, and he told Owen and Mary it was the best for Jane to be put in a nursing home.
So, please keep her in your thoughts. My sister Jane is no longer there, but a confused shell of a woman is.
Thank you for reading this.
Emi