I am kind of dying to get straight bangs...
like this:
I am just having a really hard time deciding whether or not I should do it.
Here is a recent picture of me: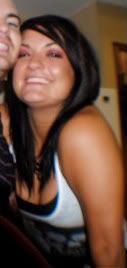 Sorry it is a bad angle, and blurry... we were using a fish eye attachment lens and it lowers the quality of the pictures. But I wanted one with my hair the way it is right now because it changes so often, haha.
here is a not-so recent one but you can see my face better:
Please tell me what you think!! I want to do it but a few people are telling me no, so i wanted to get non-biased opinions.